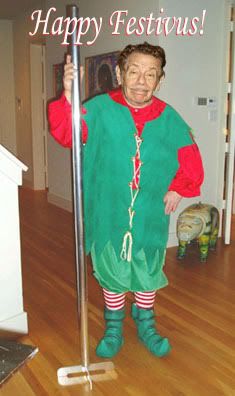 I know many of you have been eagerly awaiting the details of our Festivus with the "other" side of the family. In case you're wondering what the heck Festivus is, you must not be a Seinfeld fan. Festivus is a holiday made up by Frank Costanza, George's dad, in exhange for Christmas. When this was proposed to us, we immediately began referring to it as Festivus.
I'll just give you the highlights and let some pictures tell the story.
First, it was raining today, not heavy rains, but a light steady rain. So as we got ready, it never occured to me that "they" would proceed with their plans for a group hike. Silly me. So we drove to
Almaden
Park. Just so you are fully getting this picture, this is not a park with slides and swings, it's a county park with a sign that greets you warning you of mountain lions. Nice. So we pile out of the car, load Jack in his stroller (which was meant to stroll through malls, not forests) and head up the path. Not so bad until about a 1/4 mile in the paved path turns into a dirt path. Wait, I think I mentioned it was raining...so I guess the better word would be "muddy" path. Make that a very muddy path. It was steep and slippery and I nearly fell several times. We had to stop three times when the wheels on the stroller collected so much mud that it couldn't be pushed.
But we did get to enjoy some great conversations:


Angela told me as I was sloshing around in the mud that it's a no wonder that 20 and 30 years olds were better off being parents.


Mike doling out compliments like telling 14 year old Brendan (step-nephew) that he's not as introverted as he used to be.


1/2 mile listening to Mike give details about his visit with a "roid" doctor.
I guess it was about a 2 mile hike and I chose not to bring my camera, but here are a few shots at the end. Keep in mind, we "cleaned" off walking in the grass and the sidewalk near the car. Like my choice of hiking shoes?
We developed quite an appetite after that hike and with it being around 1:30 when we arrived back at that house (oh and we drove by a street called Bose Lane, do ya think it was the street we used to live on?). And we had a tray of fruit waiting for us. Yummy! Can't tell you how that hit the spot! 1 1/2 hours later and trying to hide my grumbling tummy, we did have a nice lunch . As the fire warmed up the room and we began to dry off, we did have a nice time and played some games. The girls really enjoyed playing with Jack and he was really good. We left around 6:30. Angela did leave me with one parting shot as I was putting on my wet shoes. Jack saw the plate of cookies and since he already had 3 I told him, "no cookies" to which Angela told Jack, "your mommy is stingy and won't let you have another cookie". Stingy...yep, that's me!